Walk in Showers and Baths ltd (WISAB) have a great deal of knowledge and expertise in bathing solutions for the elderly.  WISAB are one of the leading manufacturers and suppliers of care home bathrooms into the trade and domestic market within the UK.
As well as being a worldwide manufacturer and supplier of medical bathing aids, we are also a dedicated and caring company with many years experience.  WISAB have supplied and installed bathing solutions for the elderly throughout the UK for over 30 years. We always offer practical advice to everyone concerned with the choosing of a bathing solution prior to its installation. Get in touch with us for a free brochure to see our full range of walk in showers, walk in baths and wet rooms for all budgets.
Walk in Baths for Elderly
If you have difficulty getting into traditional baths, but still want the option of a bath over a shower, then a walk in bath is the solution. Walk in baths will enhance your independence and ability to look after yourself. There is nothing better than a good soak in a bath, and our baths are built to last. We believe our walk in baths for the elderly are the best as we go that extra mile in the manufacturing.  All frames are stainless steel and welded together and we add extra layers of fibre-glass and gel-coat.

Those wanting a conventional sized bath with walk in facility, then our Mayfair bath is the solution. It is available as a Soaker, Air Hydro Spa, Water Whirlpool or the Dual (combined Air & Water). Sizes 1700mm and 1500mm.  As an added extra our belt lift will help getting in and out of the bath effortless. With the touch of a button the bath lift will lower you smoothly and gently to the bottom of the bath and then raise you again when finished.  The seating band fits nicely on the wall and can be easily retracted back.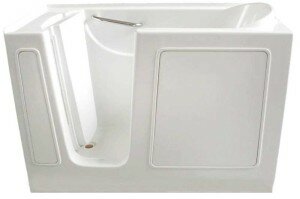 The Chelsea Walk in Bath is available as a whirlpool and comes as standard with stainless steel frame, heavy duty reinforced door system, contoured, built in seat, white or biscuit colour.
The Regency Walk in Bath has a stainless steel frame, slip resistant floor and a hand operated pop up waste which therefore eliminates having to bend down to insert the plug. Also the Regency comes with adjustable leveling feet.
Testimonials
"A breath of fresh air, work most satisfactory and well done, most helpful, we are very happy".
Mr Holland, East Sussex
,
"Absolutely over the moon with the installation and the installer was very pleasant and hard working."  Mrs Polley had a Regency Bath installed.
Mrs Polley, Southampton
,
"Keith the the fitter did an excellent job. Every problem had a solution and nothing was too much trouble. He worked non stop each day."
Mr Lawson, Manchester
,
"I would like to say how much I enjoy my new walk-in shower which was fitted from 22nd to 24th February
Also, I would like to say Thank You to Ken your fitter. When he had finished you would not think he had been in the house.
Thank you once again, and I will tell my friends of your company."
Mr R A Gibbons from Chingford, London.
,
At long last I feel life has had a turn for the best thanks to my lovely new Tessmi bath, wonderful to be able to have a soak is bliss.
Andy who fitted the bath has made a superb job, and John the electrician performed a miracle with the wiring! At the end of the day I am thrilled with the bath and it has been worth waiting for. Thanks to all the staff.
Val Marshall – Lancaster
,
Level Access Showers
WISAB offer a large range of stylish and affordable walk in shower solutions including wet rooms to suit any sized bathroom.  Walk in showers or level access showers allow you to have a comfortable relaxing shower with complete confidence and safety.
All of our walk in shower enclosures are made to a high quality and feature toughened glass consequently offering complete peace of mind.
Bathing Aids for the Elderly
Below are just some of the bathing aids for the elderly we have. To see our full range, request our free brochure & prices on free phone 0800 612 5954. Or you can email us at info (at) walkinshowersandbaths (dot) co (dot) uk or fill out the form on the right and someone will be in touch soon.
Stainless Steel Fold Up Toilet Rail
This is a great bathroom aid and one of our more popular toilet aids for the elderly and disabled. We do have many more handicap toilet accessories featured in our free brochure.
Features:
• Fold-up design gives you more room, especially where space is limited
• Ideal for multi-user environments
• An adjustable supporting leg ensures added strength and stability
• Supporting leg adjusts in 25mm increments
• Integral stainless steel toilet roll holder
Raised Toilet Seat
Raised height WC seats (pans) are a practical solution without the need for unsightly plinths or extra thick toilet seats that prevent the lid from closing.
The raised height WC pans can be retro fitted to the existing soil pipe fitted to the current toilet as a result making it an excellent toilet aid for the elderly.
Grab Rails
Grab rails are great bathing aids and come in all shapes and sizes.  They can be positioned anywhere so any place where you personally need the aid. Perhaps this is by the side of the bath or on the actual bath. WISAB can also supply rails which double up as towel rails which are much stronger meaning they be used as a grab rail also. Bath rails are great bathroom aids for elderly or for anyone who is a little unsteady on their feet.  Bath rails also help to increase confidence when it comes to bathing home alone.
Shower Seats