Bathroom designs for elderly and handicapped is what we do here at WISAB.  Walk in Showers and Baths design, supply and installs bathtubs and showers for the elderly and handicapped.   With good bathroom design, independence and general well being can be seriously improved. Also we believe style doesn't have to be compromised for safety when it comes to elderly or handicapped bathroom design. The days of clinical or hospital looking bathrooms are over.  Today bathrooms for the elderly and handicapped can look stylish yet practical.
If your looking to create a bathroom which is suitable for a family member who has extra needs why not get in touch with us.  Creating a bathroom which is suitable for the disabled is not an easy task. With our 30 years of experience in designing accessible bathrooms you are in good hands.  We know all the questions to ask as we fully understand that everyone has different needs. With our expertise we can advise you on whether a bath tub, level access shower or wet room is the best solution for you.


WISAB have a great selection of walk in bathtubs, wheelchair accessible showers and wet-rooms and some great combo options where you can have an accessible bath and shower which are a popular choice for many families:
Bathtubs for the Handicapped
We have baths that is suitable for home use but with all the facilities of hospital and care home baths. Our Simplicity Independent range is aimed for those in their own home with limited mobility but want to remain independent.

The Refind bathtub is a fixed height bathing system with integrated seat transfer and leg-lift facility, suitable for a range of care settings.
The Embrace Bathtub is a height adjustable bathing system with integrated seat and patented leg-lift facility with advanced energy-saving technology. 
The Superior Bathtub is a versatile, variable-height bathing system which is fully height adjustable and comes with powered transfer seat to deliver exceptional levels of comfort and care.
The Tranquility bath is an exceptionally versatile 3-in-1 bathing solution that incorporates a hi-lo bath system, a changing table and a bathing/showering platform.
Ultra efficient reclining bath system designed to accommodate a diverse range of bathers needs, including those with more challenging conditions.
Our Sensory Bathtub is a height adjustable bathing system designed specifically for use with mobile hoist and ceiling track systems.
The Tessmi is an integrated bathing system with an easy-access door and built-in powered seat, designed for bathers who have some level of mobility and want to maintain their independence
The Genteel Bathtub is a fixed-height bathing system with powered seat transfer. Combining impressive levels od performance with exceptional value, the Genteel is designed to be a cost effective bathing solution for a variety of environments.
Wet Rooms for Elderly and Handicapped
Wet rooms are becoming more and more popular and are a great way to create a stylish and practical bathing space. They can be enjoyed by the whole family but also can work well for small bathrooms and for a second bathroom or on suite. If your looking for solutions for wheelchair users, a wet-room could be the solutions.
With a wet room the whole floor area is tiled and waterproof. It is basically a shower room that doesn't have a shower screen or tray. They are designed to allow the use of a wheelchair and can have many accessories such as grab rails and seats.  Here at WISAB, we will tell you all the best options and show you our huge ranges of styles which work with all budgets.
The Westminster Wet Room is completely sealed and watertight.  It includes an under-floor shower tray that collects and drains the shower water and allows your floor to be tiled however you want to give a luxurious, fully tiled or cladded bathroom. Click on the image or title above to see full features.
The Lux St Tropez wet-room is extremely stylish and makes excellent use of space and helps you create a wet floor shower area and multi-user bathroom. Click on the image or title above to read more information.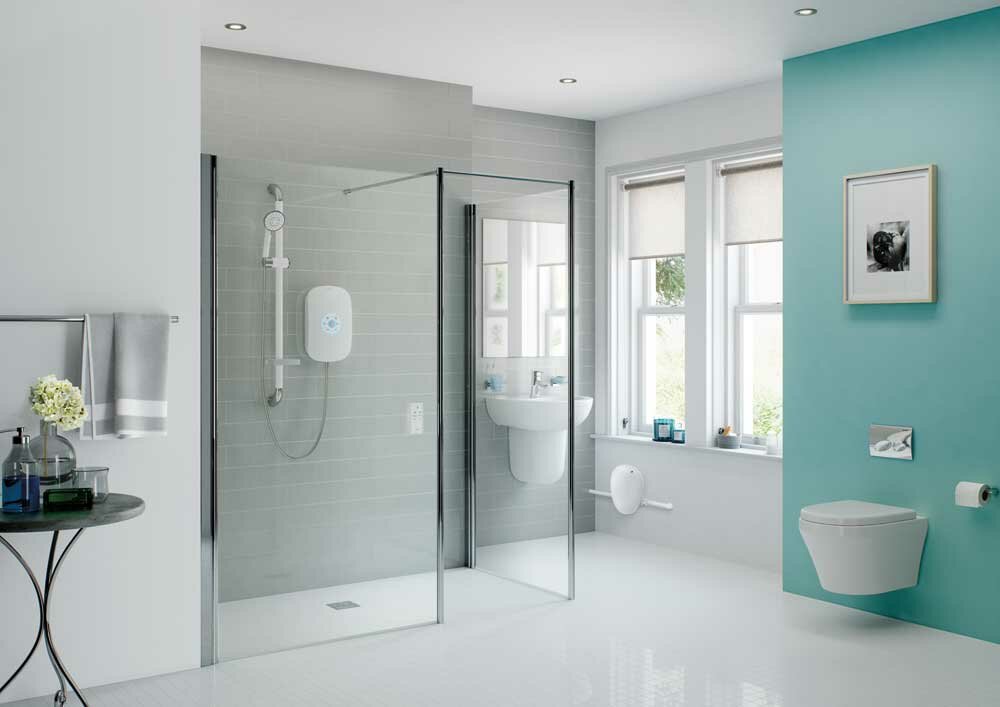 The Sandringham wet-room is another wet-room that is completely water tight and sealed. Again it is extremely stylish and practical, therefore making it perfect for the whole family to use. Click on the image or title above to read more information.
Request Free Brochure & Prices
If you would like us to design and install a bathroom that fits your needs get in touch today.  To phone us, for the North call 0161 870 2545, for Midlands call 01952 457 991, for the South call 0207 1019340 or Freephone 0800 612 5954.