Disabled bathrooms have come a long way.  Long gone are the days when the only option for a disabled bathroom was to have a clinical looking hospital like bathroom.  Not very aesthetically pleasing at all.  Today disabled bathrooms are very stylish and look nothing like hospital bathrooms.  Here at WISAB this is what we do, we install bathrooms that are both practical and stylish.  Many of our customers have a disabled family member but want a nice bathroom that the whole family can use and enjoy.  This is our speciality, as well as the care home sector, we design supply and install disabled bathrooms in domestic homes.
Disabled Shower
Below is a disabled bathroom that looks doesn't look like its for the disabled.  At first glance it just looks like a stylish bathroom. You have to really look to see the subtle design features which make this a disabled shower.
The whole family can enjoy this bathroom.  In the disabled walk in shower, the seat folds up to make a large showering area for those able bodied.  For the disabled members of the family, the level access shower, wall mounted shower chair and grab rails make this shower accessible for them.  The sink is designed so a wheelchair can fit under it safely.  The toilet seat is higher than average, and with a grab rail on the wall making it easier to use the toilet.  There are also grab rails in the shower to help with mobility.
Wet Room Shower
Wet-rooms are on trend when it comes to disabled bathroom design. If you are looking for wet room bathroom ideas, we are wet room specialists which who can help.  We have a large range of wet room shower screens. The Lux St Tropez wet room which is below is designed for wheelchair access.  It looks like its come straight out of a glossy magazine, but its one we install quite often.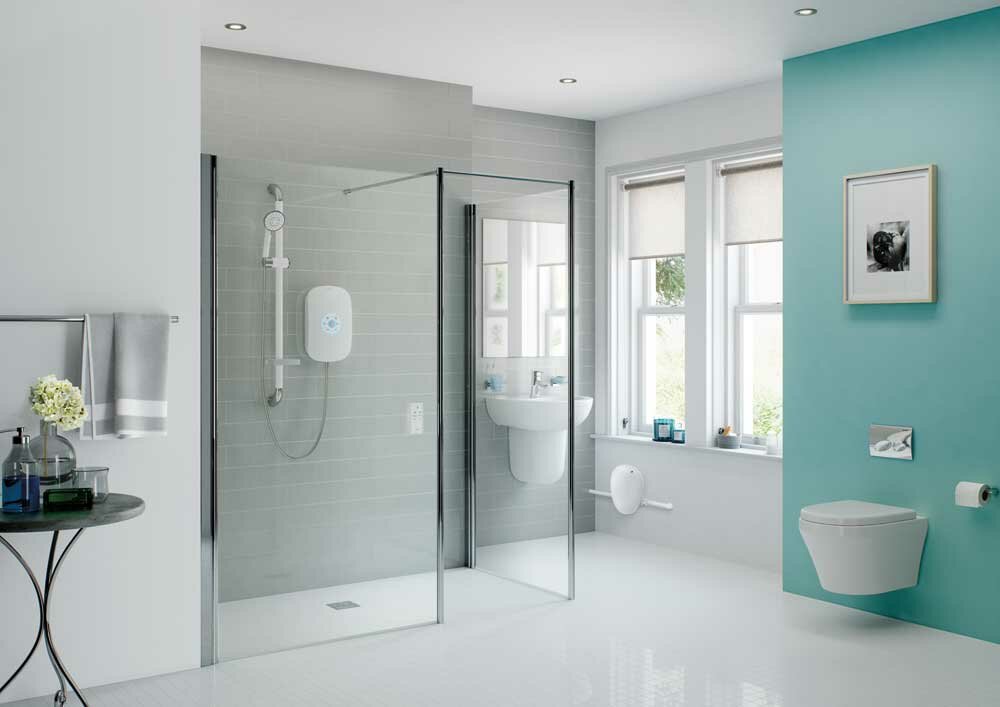 Our wet room shower screens make ideal wet rooms for small bathrooms or an ensuite wet room.  This is a corner shower wet-room which at first glance looks like a stylish bathroom, but it is designed for the disabled and has wheelchair access.  It is a great space saver solution when space is an issue and you just want a small wet room with a toilet.
This is quite a simple design to achieve. The shower tiles match the floor.  All the accessories are in chrome with the toilet and basin white porcelain.  As the tiles are neutral in colour, this means you can change the wall colour and add matching bath towels to create a whole new look quite easily.  So if after a few years you fancy a change, it would be very cheap and easy to do so. It also is very easy to clean due to the lack of glass panels.
Wet Room Ideas
A recessed wet room is a great idea for a wetroom. Many homes have recesses in bedrooms and bathrooms which can be turned into a wet room. This recessed wet room below again is both practical and stylish.  If is only if you notice the rail by the toilet or the shower chair that you can tell its a bathroom designed for the disabled.  The Lux Monaco below is ideal for smaller bathrooms and building in cupboards can be transformed into an ensuite wet room.
Our Lux Screens make it very easy to create a beautiful yet practical wet room. These wet room shower panels create a partially framed walk in wet room area. Lux Screens come with coated glass which keeps glass cleaner for longer. These frames make it very easy to design and stylish bathroom.  The wet room design below is very easy to create.  The wet room shower tiles flow from the wall to the floor effortlessly.  The image below is a wet room desgined for wheelchair access.  However this could have grab rails and a seat if required.
These wet room shower panels can also work with a shower tray if preferred like below.  Wet room or shower tray, these shower panels are very adaptable.
Walk in Shower Trays
Our walk in shower trays are easy to install with a unique design that can create a full level access, surface mounted or step in shower enclosure.
Each shower tray is slip resistant, quick draining and suitable for all floor types. Recessing into the floor or standing a very low 40mm, 90mm or 110mm high.,
Some of the shower tray sizes we have include:
1200mm x 700mm • 1300mm x 700mm
1420mm x 700mm • 1420mm x 820mm
1500mm x 700mm • 1700mm x 700mm
1800mm x 700mm • 1800mm x 820mm
A split shower is the perfect solution for those that need home assistance when showering. Our Majestic Due Shower has full height split doors. These doors can be rotated to allow the top and bottom sections to open and close independently. The split shower screens creates a splash guard carers.  It also has strong magnetic seals which aid water retention, therefore keeping carer, parents and bathroom floors dry. These screen doors are modular and come in difference sizes:
Disabled Bath
We have a large range of baths for the disabled and elderly. Our accessible bathtubs come under three categories. The Carefree Bathing range, the Independent Bathing range and the Assisted Bathing range.
Our Carefree bathtub range are aimed at those in their own homes with lots of mobility. These easy access walk in baths can fit in any size bathroom very easily. An easy access bath will improve the quality of your life and keep you independent for longer.
The Mayfair step in bathtub is the same size as a conventional full-length bath which the whole family can use. A shower can also be added at one end.  We have a number of bath seats for disabled adults such as the one you can see in the image below:
Our Independent Bathing Range is aimed for those in their own home with limited mobility but want to remain independent. Baths have a number of extra features such as the Tranquility bathtub below which incorporates a hi-lo bath system, a changing table and a bathing/showering platform.
The Refind Bathtub below is a fixed height bathtub but with a integrated seat transfer and leg-lift facility.
Our Assisted range are designed for the care environment such as hospitals and care homes.  However more and more people are having extensions or annex's added to family's homes and installing these top disability baths.
All bathtubs in the Assisted Bathing range offer a number of special features.  Each has therapeutic benefits and sensory stimulation with air and water balneotherapy, music and colour therapy as well as aromatherapy.
Bathroom Aids
We have a number of bathroom aids for the disabled.  Bath seats for elderly and disabled, high toilets for disabled, wheelchair accessible bathroom sinks.  Everything you need to create an accessible bathroom regardless of your disabilities.  We will need to learn what your abilities are now, and what they could be in the future to ensure.  This will future proof your bathroom. We have a lot of disabled wet room shower screens so with some input from yourself we can ascertain the right disabled wet room for you.
If your looking for disabled bathroom installers and like what you see here, why not get in touch. To receive your free disabled bathing solutions brochure, phone free on 0800 612 5954, for North call 0161 870 2545, Midlands 01952 457991, South 0207 101 9340. Or fill out the form below and you can email us at info (at) walkinshowersandbaths (dot) co (dot) uk.
To see reviews from all the national bathroom companies please follow this link: http://walkinbathtubreviews.co.uk/
Walk in Showers and Baths are more than just another assisted bathroom company, we listen and take into consideration your needs and worries.