Here at WISAB we have a great range of baths for the elderly. We work closely with each of our customers to ensure they get the bathroom that their unique circumstances require. Many of our elderly customers would still like the opportunity to have a nice soak in a bath but due to circumstances a traditional bath is just not practical anymore. Getting in and out of traditional baths when you of a certain age is difficult. If we are lucky we will all reach a grand old age and just because our bodies are not as able as they once were doesn't mean we should resort to being cared for full time. By remodeling a bathroom to be 'elderly friendly' means our elderly relatives can stay in their homes and remain independent for much longer.
We have a number of baths for the elderly which can be easily installed in your current bathroom. From traditional length baths to smaller step in type baths, we will have a bath for you.
Walk in Baths from WISAB
Click here for installation cost information, alternatively call us on one of our lines: For Midlands call 01952 457 991, for North call 0161 870 2545 for the South call 0207 101 9340 or Freephone 0800 612 5954.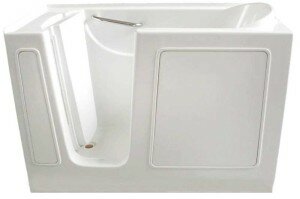 Our Chelsea step in bath has a strong stainless steel frame and heavy duty reinforced door system. You can choose this bath as standard or have one with a whirlpool system. The Chelsea is one of our most popular step in baths for elderly.
Our Regency Bath is another top seller. Again it has a stainless steel frame and slip resistant floor. It also has a hand operated pop up waste which means there is no need to bend down to insert the plug. Like the Chelsea it has a heavy duty reinforced door which can go either side depending on your bathroom design and comes in white or biscuit.
Our Mayfair step in bath is a full-length bath (1700 mm and 1500 mm) but has the advantage of an opening door. It is a great bath the whole family can use. The door can be placed on either side making it adaptable to most bathrooms.
Our Mayfair with bath belt lift is just brilliant! The belt is water resistant and can be simply lifted off the wall bracket when not in use.

Our Supreme step in bath is ideal for those on the larger size. Like all our baths it comes as standard with a stainless steel frame, heavy duty reinforced door system, contoured built in seat. Again it is available with the whirlpool system.
Our Jewel step in bath is another popular choice with our customers. It again has a stainless steel frame for super strength and longevity, overflow protective drain, heavy duty reinforced doors which again can be placed either side of the bath. You can choose from white or biscuit.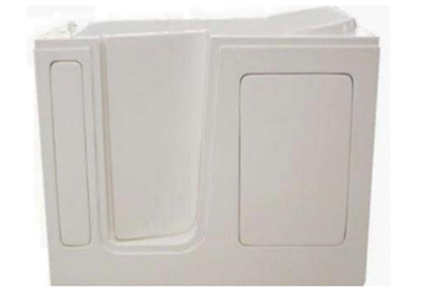 The Lancaster step in bathtub takes 45 gallons of water and comes with a handy grab rail. Like all our baths you can choose to have the whirlpool system and chose between white or biscuit in colour.

Delivery
We have most of the walk in baths you are viewing in stock ready for immediate installation. If you order this week, we can install in the next couple of weeks.
Request Free Brochure & Prices
Any questions on our Walk in baths? To phone us, for the North call 0161 870 2545, for Midlands call 01952 457 991, for the South call 0207 1019340 or Freephone 0800 612 5954.
Or you can email us at info (at) walkinshowersandbaths (dot) co (dot) uk or fill out the form on the leftand someone will be in touch soon.

Walk in Bath Video Testimonial
Take a look at one of our video testimonials below:
Miss Baker from Gloucestershire with her regency walk in bath