Looking for Walk in Baths UK? Here at WISAB we have one of the largest ranges of walk in baths for the UK market.  As well as manufacturing baths we also have a team of installers that go out installing our walk in baths.  We can offer a pre-fit technical survey, full installation of old bath out, new bath in, all plumbing, tiling and electrical work. For trade baths only please click here.
Carefree Baths
All of the baths in our Carefree Bathing range are designed to fit easily in homes, all are safe, secure and simple to use.  These baths are aimed for those people that live at home and have lots of mobility.  If you have difficulty getting into traditional baths, then these baths are the perfect bathing solution.  Each bath come in a variety of sizes.  Doors can be added on either the left or the right and most baths comes in white or biscuit.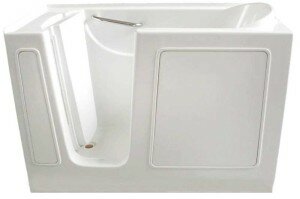 Click to enlarge image
The Chelsea walk in bath comes as standard with stainless steel frame, heavy duty reinforced door system, contoured, built in seat, white or biscuit colour. The bathtub is also available with the whirlpool system with pneumatic control for pump, 2HP tee heater and 6 adjustable water Jets. One of our best walk in baths for elderly.
Click to enlarge image
The Regency Bath has a stainless steel frame, slip resistant floor, and a hand operated pop up waste which eliminates having to bend down to insert the plug. The heavy duty reinforced door can be placed either side and comes in white or biscuit. Resin coated gloss finish and free standing stainless steel support frame with adjustable leveling feet.
Click to enlarge image
The mayfair bath is a great mobility bath the whole family can use. It comes in the same size as a conventional full-length bath (1700 mm and 1500 mm) but has the advantage of the walk in facility provided by a door at one end. The door can be either side making it adaptable to most bathrooms.
The Chelsea, Regency and Mayfair are our best sellers but we have many others.  We do have a step in bath which is suitable for the much larger bather.  Take a look at our full range of Walk in Baths here…
Independent Baths
Our Independent Bathtub Range are designed for those in their own homes but with much less mobility.
The Refind bathtub is a fixed height bathing system with integrated seat transfer and leg-lift facility, suitable for a range of care settings.
The Embrace Bathtub is a height adjustable bathing system with integrated seat and patented leg-lift facility with advanced energy-saving technology
The Superior Bathtub is a versatile, variable-height bathing system which is fully height adjustable and comes with powered transfer seat to deliver exceptional levels of comfort and care.
The Tranquility bath is an exceptionally versatile 3-in-1 bathing solution that incorporates a hi-lo bath system, a changing table and a bathing/showering platform.
The invigorate bathtub is the modern day take on the 'Parker' bath.  An ultra efficient reclining bath system designed to accommodate a diverse range of bathers needs, including those with more challenging conditions.
Again this is just a sample of baths we have available.  Click here to see the full Independent Bathtub Range.
Assisted Baths
Our assisted baths are designed for hospitals and nursing homes.  They are for those who's mobility is very limited or none existent and are being cared for at care home. However these assisted baths can be installed in annex's or extensions to family's homes.  All bathtubs are made in fibreglass reinforced polyester with a sanitary gel coat finish. The steel chassis has a high-performance anti-corrosion treatment therefore giving the bath longevity. The doors have safety solenoid and a safety looking system.
The Indulgence bathtub is ergonomically designed so the tub shapes with the users body and raises legs. The height is electrically adjustable therefore making the job for carers as easy as possible.
The Opulant bathtub is designed to make the carers handling as easy as possible.  The height of the bath is electrically adjustable.
The Indulgence Repose bath is another bath that supports well-being and intense relaxation.
The Timanfaya Maternity Bath is designed for preparation for childbirth with a natural approach.
All assisted bathtubs have special features which offer a number of therapeutic benefits and sensory stimulation.   Air balneotherapy due to the relaxing and soothing touch of thousands of air bubbles.  Water balneotherapy offers massage and stimulation.  Colour therapy with light diffusion from 356 colours. Aromatherapy aromas are diffused through the balneotherapy air system. Music therapy through music which can be heard and felt.  For more information and all of our assisted bathtubs click here…
How much is a walk in bathtub
The cost of a walk in bathtub depends on a number of things. The bath you want, an extra features and where its to be installed. We can't give you a price until come out and learn where and what bath is to be installed. As you can see we have a huge range of walk in baths UK. So get in touch with us today if you would like a free brochure and a survey to give you a good price on new walk in bathtub.