As we get older the simple things in like such as taking a bath or shower can be dangerous.  Bathroom slips are one of the most common accidents in the elderly so making bathrooms a safe environment should be paramount. If you have an elderly relative you are worried about or you yourself are worried about your safety in the bathroom, we are hear to help.
WISAB have a great range of showers which are designed and made especially for the elderly.  But it is all about the design.  We can design a beautiful new bathroom which will have all the latest technologies for keeping you safe in the bathroom.  Non slip flooring , grab rails,  shower chairs and appropriate lightening will bring independence back into showering.
Take a look below at some of our shower enclosures. For the full range click here
Lux Monaco Alcove Walk in Shower
Lux Monaco Alcove Walk in Shower is a popular choice. It come in many different sizes and is very simple to install where there is an alcove in the bathroom.
Click here to read more..
Lux Monaco Recessed Walk in Shower
The Lux Monaco Recessed Walk in Shower is another popular shower which has the perfect combination of style and practicality. This shower has plenty of options to make it suitable for the whole family.
Click here to read more..
Lux St Tropez Shower/Wetroom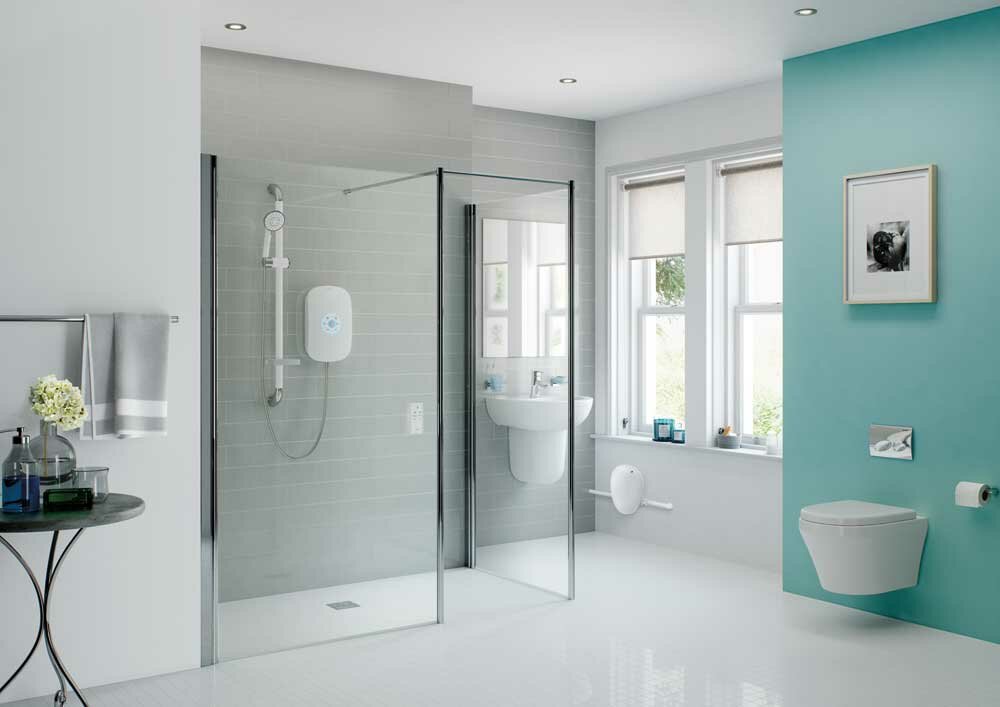 The Lux St Tropez shower is a level access shower but is also one of our wet-rooms. Beautiful to look at, easy to clean, the Lux St Tropez is a beautiful showe which makes excellent use of space. The Lux St Tropez and accessories will make a stylish yet practical bathroom the whole family can enjoy.
Click here to read more..
Lux Chateau Shower Cubicle
The Lux Chateau Shower Cubicle will fit nicely in a corner of the bathroom. With shower accessories including chairs and grab rails, this shower works well where space is limited.
Click here to read more..
Toulon Quadrant Shower
Toulon Quadrant Shower enclosure is another stylish corner shower that comes in a number of sizes. Ideal for smaller bathrooms and en suites.
Click here to read more..
Envie Shower Enclosure
The Envie shower enclosure is one of the most popular corner shower enclosures we have. It is very stylish but with toughened glass and magnetic closing doors.
Click here to read more..
Majestic Duo Shower
Our Majestic Duo Shower Enclosure has full height split glass doors. This shower is great for those that need help and assistance in the shower. A carer can easily help without getting wet themselves.
Click here to read more..
Majestic Flipper Shower
The Majestic Flipper Shower Enclosure comes with toughened glass and is suitable for wet-rooms.
Wet Room Showers
With a wet room shower, floors are altered to allow the water to drain safely away. A wet room shower space is entirely open plan with glass screens. Compared to a walk in shower where there is a low profile shower tray, the floor is even and the same all around the shower.
WISAB have a number of stylish and practical wet-rooms for the whole family. Click here see our full range of wet-rooms.
Request Free Brochure & Prices
If you would like to speak to a trained bathroom surveyor you will need to arrange a home visit.  Our team are trained to offer expert and honest advice without the pushy sales banter that normal accompanies these types of visits.  You can trust in us as we have been in the business for over 30 years and we keep our prices low.  We will beat any competitor price so its worth contacting us for a quote.
For more information and advice on all our walk in showers, for the North call 0161 870 2545, For Midlands call 01952 457 991, for the South call 0207 101 9340 or Freephone 0800 612 5954.
Or you can email us at info (at) walkinshowersandbaths (dot) co (dot) uk or fill out the form below and someone will be in touch soon.