Wet Rooms are becoming more and more popular and are a great way to create a stylish and practical bathing space. As well as looking great, they are very practical which allows them to be enjoyed by the whole family.  As another bonus wet rooms also adds value to your home.  Wet rooms can work well for small bathrooms and for a second bathroom or on suite.
Many people are not sure whether a wet room would work in their homes, but let us reassure you that anyone can have a wet room installed.  It is basically a shower room that doesn't have a shower screen or tray. The whole floor area is tiled and waterproof.  Wet rooms for small bathrooms work better with a shower screen to prevent everything getting sprayed with water, but this is your choice.
Here at WISAB we will tell you all the best options and show you our huge ranges of styles which work with all budgets.
The Westminster Wet Room is completely sealed and watertight.  It includes an under-floor shower tray that collects and drains the shower water and allows your floor to be tiled however you want to give a luxurious, fully tiled or cladded bathroom. Click on the image or title above to see full features.
The Lux St Tropez wet-room is extremely stylish and makes excellent use of space and helps you create a wet floor shower area and multi-user bathroom. Click on the image or title above to read more information.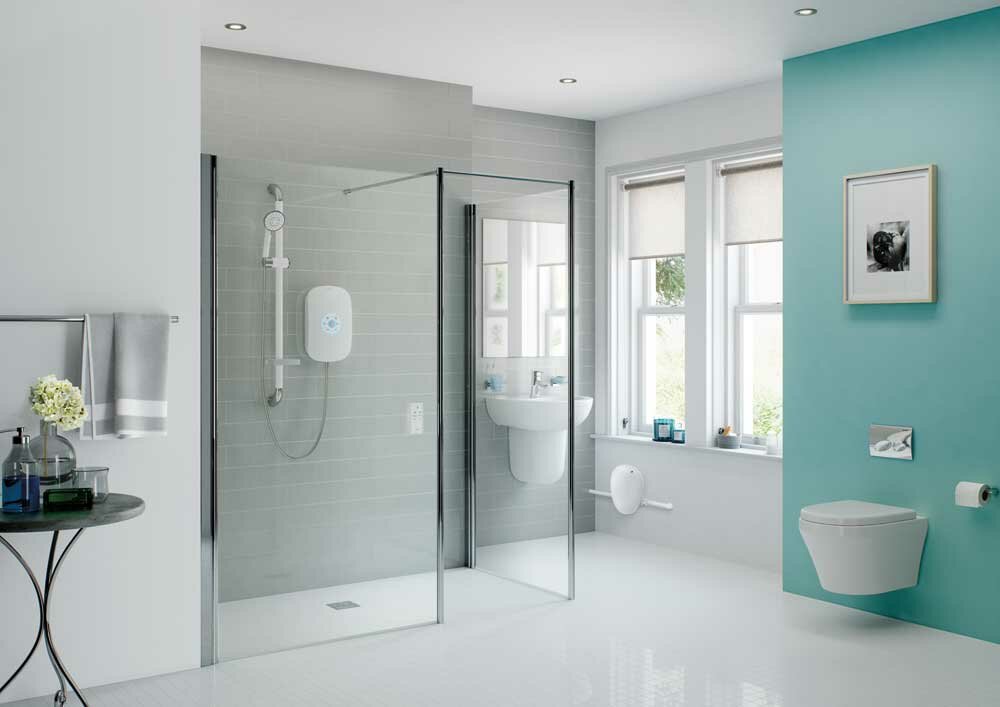 The Sandringham wet-room is another wet-room that is completely water tight and sealed. Again it is extremely stylish and practical, therefore making it perfect for the whole family to use. Click on the image or title above to read more information.
Our Simplicity Lux Screens can create a stylish and practical wet room, but they can also work with surface mounted trays to create a level access shower enclosure.
Request Free Brochure & Prices
For more information and advice on all our walk in showers, phone us free on 0800 612 5954, or for those in the North call 0161 870 2545 for the South call 0207 101 9340, for Midlands call 01952 457 991.
Or you can email us at info (at) walkinshowersandbaths (dot) co (dot) uk or fill out the form below and someone will be in touch soon.

Benefits of a Wet Room
Creates a contemporary super-stylish look
Adds value to your home
Ideal for small bathrooms
Compatible with underground heating systems
Ideal for those with mobility issues
Accessible to wheelchair users
Easily installed upstairs or downstairs
Easier to maintain and keep clean
What's the difference between a wet room and shower room?
The difference between a wet room and a shower room is simply that with a wet-room the whole floor is waterproofed and the same level as the rest of the room. With a shower room there will be a slip proof shower tray designed to channel the excess water.
The picture below is a picture of a shower room with a level access shower tray. Below that is our Sandringham Wet-room where you can see the shower floor section is the same and joined up with the rest of the bathroom. Also you can't see it, but the floor is gently sloped so water gets drained away. Wet rooms are designed to be slip proof.

If you're unsure whether to have a fully tanked wet room or level access shower room why not give us a call.