Deep soaker range offering extra buoyancy at not extra cost. Before you buy a walk in bath, check out our new improved soaker. The extra boyancy provided helps to take the weight of the body. Other options such as water spa versions available.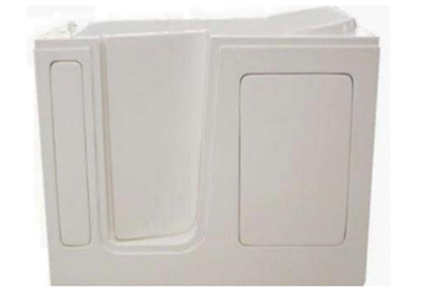 Standard Features
Seat Height 420mm
Bath Width 711mm
Bath Length 1219mm
Door Height 762mm
Door Width 381mm
Stainless Steel Frame
High Gloss Triple Gel Coat Finish
Water Fill: 45 Gallons
Overflow Protective Drain
Heavy Duty Reinforced Fiberglass Resin
Frame with Adjustable Leveling Feet
Contoured, Built in Seat
Built in Grab Bar and Textured Bottom
Tap/Shower/Faucet Accessory Deck
Left or Right Door
Whirlpool System
Pneumatic Control for Pump
• 220V, 1 HP Electric Water Pump Motor
• 6 Adjustable Water Jets
• 2HP Tee Heater
(Keeps Temperature Consistent)
Note: All of our water massage jets have a 360*range of motion to provide maximum comfort and versatility.
Note: The tee heater is designed to maintain water temperature during water jet operation. It will not heat cold water to desired bathing temperature.
Air System
• Pneumatic Control for Pump
• 0.75HP Electric Air Pump Motor
• 550 w Air Jet Blower
• 18 Air Jets
Dual System
Combine Air and Hydro System
Colours
White or Biscuit
Construction
Our walk-in-baths are constructed of the highest grade fiberglass composites for beauty and durability. They come with a stainless steel frame for long lasting strength and adjustable feet for easy installation and leveling.
Diagram below is for generic measurements.
Delivery
We have most of the products you are viewing in stock ready for immediate installation. If you order this week, we can install in the next couple of weeks.
Request a Free Brochure and Price List
To phone us, Midlands and North call 01952 457991, for the South call 0207 1019340 or Freephone 0800 612 5954.
Or you can email us at info (at) walkinshowersandbaths (dot) co (dot) uk or fill out the form on the right and someone will be in touch soon.
Save