Bath Aids for Seniors
We have a huge selection of bath aids for elderly people who need help with bathing.  Quite often it is the accessories which make all the difference to the overall look and feel of the bathroom.  But you want bathroom accessories that make your overall bathing experience easier and more enjoyable. Take a look below at some of the bathroom accessories we have available from vanity units to shower chairs.  Contact us for a brochure showing our full range.
Full Height Pedestal & Basin
An ergonomically designed basin and accompanying pedestal which is suitable for wheelchair, walking frame or perching stool users. The design balances style with functionality featuring a con-caved front to allow closer access to basin and taps.
Close Coupled WC
The close coupled WC is a classic design, featuring rounded edges and corners for safety and exposed outlet for easy fitting and maintenance.
AquaClean WC
Elegantly designed, the AquaClean WC incorporates a simple to use shower, dryer and odour extraction. It provides you with an all-round cleaner, more comfortable and more hygienic experience.
In addition the AquaClean is easy to operate and virtually touch-free. The AquaClean will leave you feeling clean, fresh and improve your sense of well-being.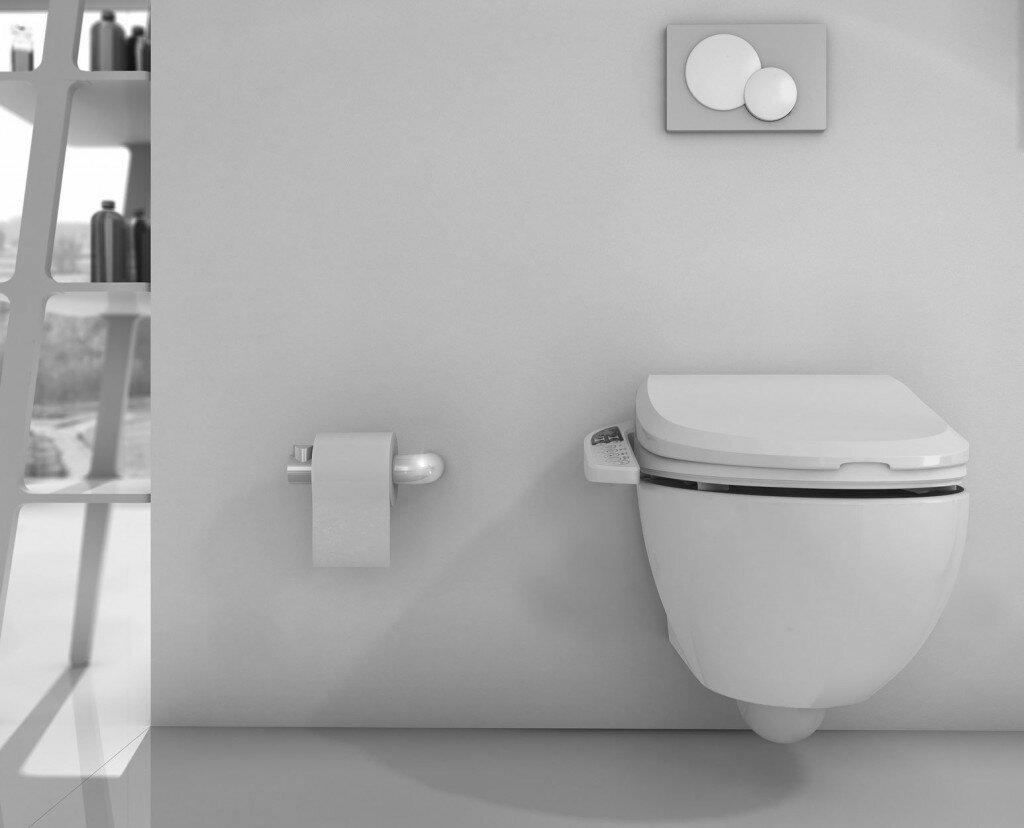 Bidet Seat
Our user friendly bidet seats is designed to be retrofitted to existing toilet pans. Offering all the hygiene and comfort benefits of a high end bidet toilet.
Product Features
Durable, safe and easy to clean
Modern and discreet design to compliment
bathroom
Easy installation to existing toilet pan
Soft close seat mechanism
Touch activated on/off switch
Continuous water heating for instant warm water
High Toilet Pans
A practical solution to raising the height of the WC pan without the need for unsightly plinths or extra thick toilet seats that prevent the lid from closing.
The raised height WC pans can be retro fitted to the existing soil pipe fitted to the current toilet.  This is a great bathroom aid for seniors.
Bath Shower Mixer
A thermostatically controlled bath shower mixer with easy to grip temperature and flow handles for those with limited dexterity.
Temperature override button offering flexibility
Independently operated flow and temperature override button for safety
Maximum pre-set temperature of 38°C
Rounded edges and corners helping prevent injury
Shower Mixer
A thermostatically controlled bar shower mixer
with easy to grip temperature and flow handles
for those with limited hand function.
Temperature override button offering flexibility
Independently operated flow and
temperature controls for safer use
Easy grip height adjustable handset holder to
allow flexible shower head positioning
Multi-function shower head giving choice of
spray patterns
Rounded edges helping prevent injury

Single Vanity Unit
A single vanity unit offering plenty of storage consisting of:
2 x drawers
2 x cupboards
Gloss white finish

Double Vanity Unit
A double vanity unit offering plenty of storage
consisting of:
Ceramic surface
2 x drawers
4 x cupboards
Gloss white finish
Basin mixer tap

Combination Vanity Unit
A combined vanity unit and concealed cistern WC unit complete with a ceramic style top.
The unit has a gloss white finish and comes complete with WC pan and basin mixer tap.
Shower Seats
Shower seats are very popular bathroom accessories for seniors.  The space saver series shower seat is carefully designed, comfortable and rust proof. The compact option is designed for smaller shower areas where space is limited.
Product Features

Rust proof aluminium
Available with padding
Adjustable seat height
Space Saver Elite Shower Seat
The Space Saver Elite series of shower seats have been designed to accommodate a variety of individual needs of end users.  Options include backrest, padded arms and adjustable legs so provide much needed support to seat users.
Product Features
Sturdy design, adjustable for comfort
Independent folding arms make it suitable for side transfers
Unique and innovative design will give years of trouble free service
Made from rust proof stainless steel
Stainless Steel Fold Up Rail
This one of the more cleverly designed bathroom accessories. Features:
Fold-up design gives you more room, especially where space is limited
Ideal for multi-user environments
An adjustable supporting leg ensures added strength and stability
Supporting leg adjusts in 25mm increments
Integral stainless steel toilet roll holder
Stainless Steel Grab Rail
Stainless steel grab rails provide discreet support to complement modern bathrooms. Grab rails are common bathtub aids for elderly and can be installed in many areas.
High grade, rust-proof stainless steel
Modern polished finish
32mm diameter
Easy to clean
Fluted Grab Rails
Our fluted grab rails are can be placed around your bath and or shower.
Available in straight or angled options in a
variety of sizes.
Extractor Fan
The AKW100 Series low voltage extractor fan range has been specifically designed for extra safety when used in bathrooms and showers.
Slim plastic casing for discreet fitting
Can be wired directly into bathroom light circuit
Can be wall or ceiling mounted, so suits a wide range of locations
Towel Warmer

Keep towels warm and skin safe with an addition to the room that's a pleasure to look at and safe to touch.
Luxury chrome or white finish
Modern design
Straight or curved models available
Various sizes available
Can be used with a timer
Low maintenance costs

Digital Wastes
The Wisab M11, M17 and M20 Digital Waste Pumps provide reliability and high performance. These waste pumps are easy to install and compatible with our range of shower trays
Product Features
Quiet in operation, no disturbing noises
Compact, with the pump and controller
enclosed in one unit
Easy to install
Models to suit, electric and low pressure
mixer showers
Non-handed unit (to fit left or right inlet)
Reclining Bath Lift

Our reclining bath lift makes bathing safer easier and relaxing again. For use with our Mayfair Walk in bath range. The quick release system means that it can be easily removed leaving your bath clear for other users. Once the bath seat is lowered down into the bath the back rest reclines therefore allowing you to relax in your bath whilst still being fully supported.

Request Free Brochure & Prices
For more information and a full brochure of all of our bath aids for seniors, please get in touch.  Those in the North can call 0161 870 2545, for Midlands call 01952 457 991, for the South call 0207 1019340 or Freephone 0800 612 5954.
Or you can email us at info (at) walkinshowersandbaths (dot) co (dot) uk or fill out the form on the right and someone will be in touch soon.