Level Access Showers for Easy Bathing
Walk in showers or level access showers offer the ultimate showering experience. Our shower designs are ideal for those who would prefer level access or low step entry. Whether you have a busy lifestyle, mobility issues or just looking to upgrade your current shower to a more stylish easier accessible shower we have a shower for you. Perhaps a member of the family has mobility needs and you require a shower that is suitable for their needs but also works for the rest of the family. We can design a bespoke level access shower that whole family can enjoy, without compromising on style.
Whatever your needs, we make your bathroom dreams come true..
To call for free brochures: For the North call 0161 870 2545, For Midlands call 01952 457 991, for the South call 0207 101 9340 or Freephone 0800 612 5954.
Lux Monaco Alcove Shower
The Lux Monaco Alcove walk in shower range has an extensive choice of sizes and is very easy to install. This level access shower is a long-term favourite with our customer and bathroom fitters alike. The picture above shows the walk in shower with seat and grab bars.
Learn more..
Lux Monaco Recessed
Lux Monaco Recessed walk in shower with seat and grab bars is the perfect combination of style and practicality, with plenty of options making it suitable for the whole family. Suitable for all floor types, upstairs or downstairs.
Learn more..
Lux St Tropez Walk in Shower/Wetroom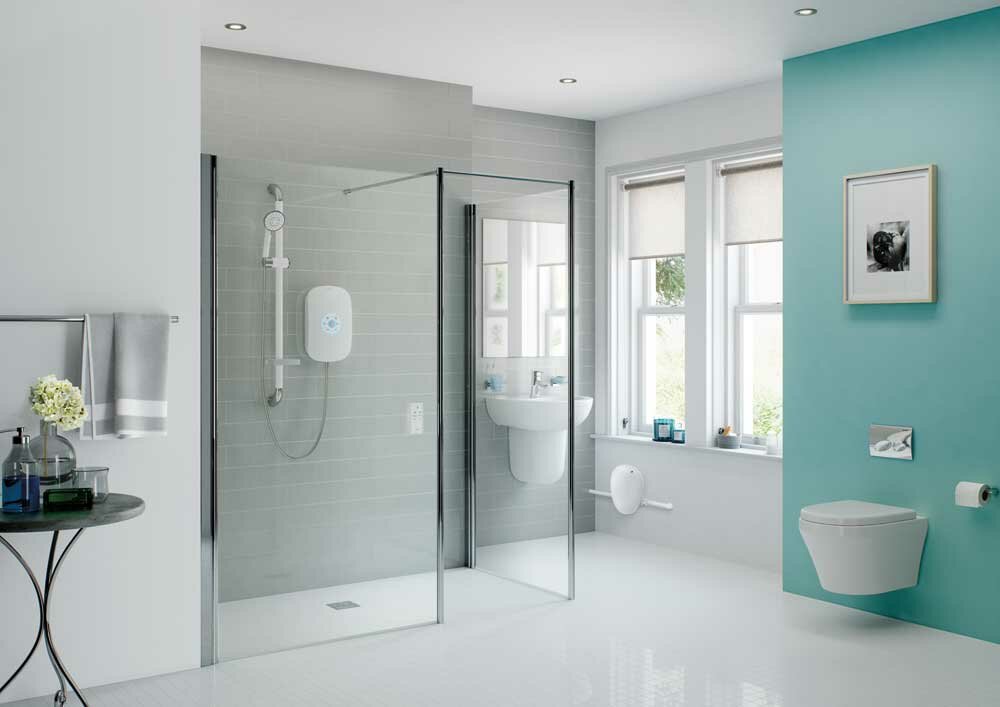 Sleek and stylish comes to mind with our Lux St Tropez level access shower (wet-room). It makes excellent use of space and helps you create a wet floor shower area and multi-user bathroom.
Learn more..
Lux Chateau Corner Shower
The Lux Chateau walk in shower performs superbly and looks even better to create a truly aspiration yet functional showering experience and can be used with a wide range of tiles and finishes.
Learn more..
Toulon Quadrant Shower
This Toulon walk in quadrant shower enclosure is a stylish corner shower enclosure that comes in a number of sizes. Ideal for smaller bathrooms and en suites.
Learn more..
Envie Shower Enclosure
Envie shower enclosure is a stylish corner shower enclosure that comes in a number of sizes with toughened glass and magnetic closing doors. One of the most popular shower enclosures.
Learn more..
Majestic Duo Shower
The Majestic Duo Shower Enclosure has full height split glass doors, connected by a unique duolinx handle system to provide care assisted showering.
Learn more..
Majestic Flipper Shower
Our Majestic Flipper Shower comes with toughened glass and is suitable for wet-rooms.
Learn more..
Majestic Disabled Shower Range
WISABS Majestic Shower screens are designed specifically for the mobility and domestic markets and are both extremely practical and stylish. Exceptional drainage.
Learn more..
Windsor Disabled Shower Range
Windsor Shower Enclosures are ideal for any room or bedroom. The absence of sealant and grout makes the shower cubicle virtually maintenance free.
Learn more..
Sandringham Wet Room
Sandringham is a simple yet stylish wet-room. It includes an under-floor shower tray that collects and drains the shower water. The tray allows your floor to be tiled therefore giving luxurious, fully tiled or cladded bathroom. Great stylish and practical for the whole family.
Features
Fully waterproof wet room with lifetime guarantee
Suitable for all floor types, upstairs or downstairs
Modern safety mixer shower suitable for the whole family
Freestanding slip-resistance seat for easy temporary use
Concealed high flow drain
Super strong safety glass
A wide variety of available screen sizes
99% of our clients are VAT exempt
Learn more..
Simplicity Lux Screens
Our Simplicity Lux Screens can create a stylish and practical wet room, but they can also work with surface mounted trays to create a level access shower enclosure.
Learn more..
Walk in Shower Trays
Shower trays are easy to install with a unique design that can create a full level access, surface mounted or
step in shower enclosure.

Features:
Quick draining, thanks to a 35mm fall to the waste
Slip resistant surface makes them safe to use
Suitable for all floor types
Full selection of screens, curtains, rails and ramps means you can create the perfect bathroom for your requirements
Available sizes
1200mm x 700mm • 1300mm x 700mm
1420mm x 700mm • 1420mm x 820mm
1500mm x 700mm • 1700mm x 700mm
1800mm x 700mm • 1800mm x 820mm
Available depths
All shower trays are for either recessing into the floor or standing a very low 40mm, 90mm or 110mm high.
Wrekin Showers
Modern electric showers have been beautifully designed with you in mind. Whether it's for a family bathroom or a new development, a small flat or a mansion, a parent or a carer, we have the perfect electric shower for any setting.
Features
Easy push-button or traditional dial controls: Power, Temperature, Flow
All controls closely grouped together
Raised tactile symbols: +, -, Temp, Flow
Audible Temperature and Flow Indicators
LED Illuminated Temperature and Flow Indicators
Matt anti-glare finish
Rounded surfaces and edges for safety
BEAB CARE Certified
RNIB Tried and Tested
10.5kW option for therapeutic use
Bluetooth® Smart wireless remote control (optional)
Request Free Brochure & Prices
For more information and advice on all our walk in showers, phone us free on 0800 612 5954, or for those in the North call 0161 870 2545 for the South call 0207 101 9340, for Midlands call 01952 457 991.
Email us at info (at) walkinshowersandbaths (dot) co (dot) uk or fill out the form on the right and someone will be in touch soon.
Video Testimonial
Mrs Holloway Long from Midlands had a walk in shower installed and this is her video testimonial below:

Guide to Buying Walk in Showers & Level Access Showers
There are many options and variants to consider when it comes to re-modelling your bathroom, therefore it is important to give thought to the functions and features that will best suit you and your loved ones. What can be achieved depends on the size of your bathroom and other technical considerations. Each bathroom is bespoke and each client's needs are unique, which is why a home consultation is the most efficient way to see what can be achieved.
It is important to see what space is available, is there a corner space, would a quadrant corner shower be ideal? Is there a recess?  Other questions our clients ask us but never think to include: Do I need a pump to assist with the drainage? Do I need an electric shower or have I sufficient pressure to use a shower mixer valve from my existing system? Will my walls need re-tiling and are they suitable to be re-tiled? These questions can be answered during our visit to your home, when we see the bathroom or room where you would like your walk in shower installed.
Here at Walk in Showers and Baths Ltd we have the knowledge and expertise within the care sector to help people stay independent in their own home.  Because we have also worked with many care homes, hospitals and sheltered housing facilities over the years, we know what works and what doesn't.
Considering your options
Making the change from either a bath or shower to a low level or level access shower can take some consideration. When choosing the style and design of your new shower try to consider others in the home that will also be using the facilities.
Is a shower seat needed? How wide does this need to be? How high should the seat be set on the wall? Does the seat require arm rests or a back rest? Can the seat be folded away when not in use?
The type of shower must also be discussed, we offer a range of showers both electrical and thermostatic mixer, the type of shower that will suit your requirements must also be compatible with your current water system ie combi boiler, gravity fed system etc.
Accessibility is one of the main factors when installing a new shower, giving ample room to get in and out of the shower is a main priority. The area must be free of clutter and provide enough entrance space to safely enter and exit the shower area.
Other options such as grab rails and drop rails should also be considered, using these bathroom aids can greatly improve your independence. By having at least two assistant rails in the bathroom installed at the correct height and position will offer you support, therefore giving you confidence when using the bathroom facilities.
Low level and level access showers
A level access walk-in shower is quite similar to a wet room because of the fact there is no step to enter the shower enclosure.  Level access showers are a stylish yet practical solution for those wanting to adapt their current bathroom to suit their mobility needs. Level access showers are specifically designed to reduce slip and fall accidents. Ideal for people of all ages and not just those with mobility requirements.
Level access walk-in showers can also be completely free of doors/screens offering a spacious showering experience. Many of our walk in shower designs are customized to meet the needs of the client, whether it be a custom design screen, Modesty panel or split/ half height doors our range has the flexibility to comply with any requirements the client may have.
Walk in showers have a low level shower tray. A walk in shower can work well for the whole family. They gibe the mobility impaired a safer environment and also offer a stylish yet adaptable shower the whole family can use.
Care assisted walk in showers
Care assisted showers can be either level access or low level.  The type of screen required can differ between half height and split screen or no screen at all. Our care assistant showers offer a range of designs made to suit the requirements of the career and the client.