Mobility Wet Rooms
Disabled wet rooms are the perfect bathing solutions for the disabled, elderly or those with limited mobility. If you need extra space to shower, wet-rooms are the best option. With a level fully waterproofed floor, the risks of slips are further reduced. We have a number of wet rooms and styles to choose from. Each can have grab rails, support bars and shower seats which gives the user as much independence as they require. All of our wet rooms are both stylish and practical, and can be enjoyed by the whole family.
When thinking about having a wet room installation it is important to think about possible future needs. We will want to know if there is a possibility that the user may end up in a wheelchair. In which case, we can ensure the showering area is wide enough for a wheelchair and the shower controls are in the correct position. Also the flooring needs to be considered. Not all under-trays are suitable for supporting a wheelchair. This is why thinking about the users future needs is important when considering a new wet room installation.
Westminster Wet Room
Our Westminster Wet Room shower screens come in a number of sizes making this a very adaptable. Great for small or on suite bathrooms. It it completely sealed and watertight and can be designed for wheelchair access. This fully waterproof disabled wet room is suitable for all floor types, upstairs and downstairs. With a freestanding slip-resistance seat for easy temporary use, a safety mixer, concealed flow drain and strong safety glass. It allows for wheelchair access but can be enjoyed by the whole family. With a large range of screen sizes, this is a great adaptable wet room. Popular with customers and fitters alike.
Sandringham Wet Room
The Sandringham Wet Room is another completely sealed and watertight disabled wet room. It includes an under-floor shower tray that collects and drains the shower water and allows your floor to be tiled however you want to give a luxurious, fully tiled or cladded bathroom.
Again you have the walk-in screen with reassurance of safety glass. It can be installed upstairs or downstairs. It comes in a wide variety of screen sizes and can be designed for wheelchair access.
Lux St Tropez Wet Room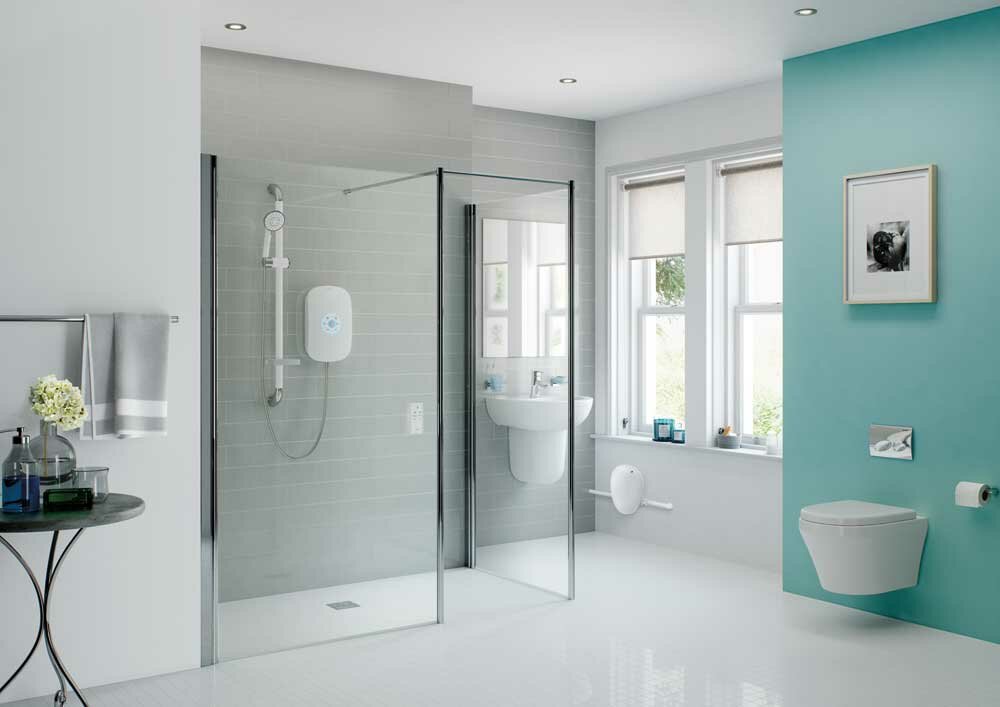 The Lux St Tropez disabled wet room makes excellent use of space and helps you create a wet floor shower area and multi-user bathroom which all the family can enjoy. Like all our wet room it is exceptionally strong to accommodate a user with wheelchair and also a carer.
Simplicity Lux Shower Screens
Our Simplicity Lux disabled shower screens can create a stylish and practical wet room, but they can also work with surface mounted trays to create a low level access disabled walk in shower. Features a contemporary partially framed glass design, coated glass for easy cleaning, thick safety glass for peace of mind. Suitable for installation on wet floors with quick and easy installation/


Majestic Shower Screens
Our Majestic Screens are designed specifically for the mobility and domestic markets and are both extremely practical and stylish.
Features
Full height screens compliment any elegant bathroom
Half height screens give easy carer access
A stronger magnetic strip increases water retention
Robust frames for a longer life
Stronger fittings provide better wear and tear
PET panels gives shatterproof glazing and added safety
Smooth modern latches and D handles
180° hinges enable doors to open both inwards and outwards
Durable and better designed seals for a continuous water barrier
Benefits of Wet Rooms
Wet rooms are becoming more and more popular with the disabled. They are the perfect way create a contemporary super-stylish look and practical bathing space.  You can future proof you needs with a cleverly designed disabled wet room. They can also work well for small bathrooms or on suite. A wet room is basically a shower room that doesn't have a shower screen or tray. The whole floor area is tiled and waterproof. They can be compatible with underground heating systems. Wet rooms are easier to maintain and keep clean. Wet rooms for small bathrooms work better with a shower screen to prevent everything getting sprayed with water but this is your choice.  Finally as an added bonus, wet-rooms adds value to your home.
Request Free Brochure & Prices
We have a great range of disabled bathing aids such as grab rails and shower chairs. Here at WISAB we will tell you all the best options and show you our huge range of disabled wet rooms which work with all budgets. For more information and advice on all our wet rooms and mobility aids, phone us free on 0800 612 5954, or for those in the North call 0161 870 2545 for the South call 0207 101 9340, for Midlands call 01952 457 991.
Or you can email us at info (at) walkinshowersandbaths (dot) co (dot) uk or fill out the form on the right and someone will be in touch soon.